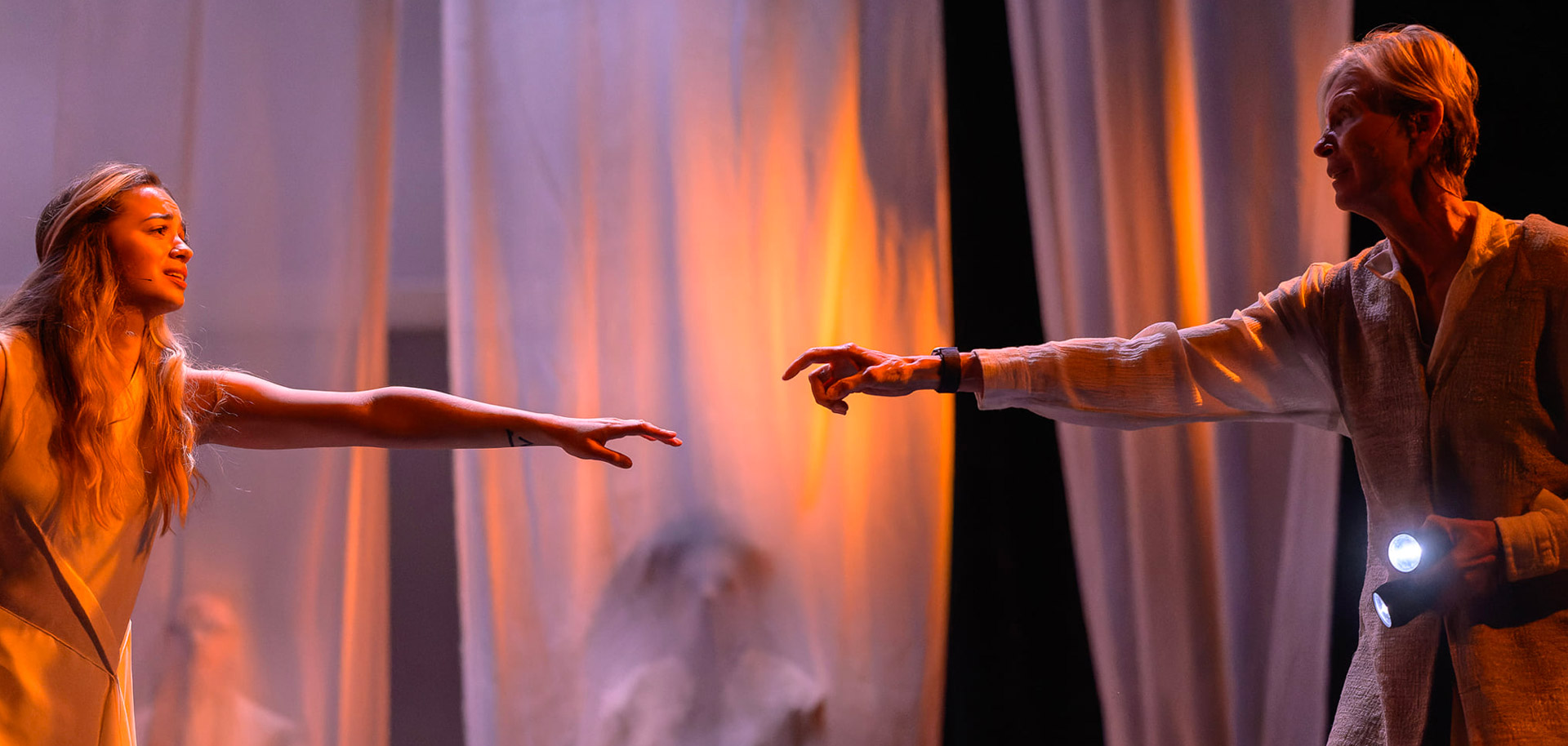 The spoken word, movement, and imagination combine to tell stories in the theater arts.
Acting student literally step into others' shoes when they undertake roles, opening new perspectives, and building empathy. Behind the scenes, technical theater students learn to
plan, collaborate and create scenery, props, light, sound and costumes to enhance the storytelling on stage – all in service of transporting audiences to new worlds through the power of theater.
Did You Know?
There are more than 400 theater companies in the San Francisco Bay Area
Shakespeare Napa Valley's outdoor summer productions have attracted more than 30,000 viewers since 2010
Program Highlights
NVC's Theater Arts department is designed to create high quality theater experiences on stage and in the classroom. Part of Performing Arts Napa Valley, NVC's theater programs contribute to the quality of campus life and in the community at large.
Students learn from professional artists in a way that inspires their passion for the artistic process, while developing self-discipline, self-esteem, critical thinking skills and teamwork. Coursework includes analysis of dramatic literature, development of cultural and literary appreciation, application of performance and production skills, and practical experience presenting theatrical performance for peer, professional, and academic review.
The AA-T in Theater Arts provides a comprehensive foundation in theater preparation for transfer to Baccalaureate programs for theater majors in the CSU system, with an emphasis on performance in multiple theatrical genres. The AA in Theater Arts-Acting and Theater Arts- Technical Theater offer students pursuing further study or a career in the entertainment industry specialized courses of study in their subjects of interest.
Occupations
An education in theater arts cultivates discipline, presence and communication which are essential skills in business, education and life. Theater Arts boasts multiple opportunities for employment such as acting, directing, stage management, playwriting, and designing (scenic, costume, lighting, sound, puppetry and projection) as well as arts administrative positions in management, finance, fundraising, marketing, education, and outreach. Theater Arts graduates may also find fulfillment as talent agents, casting directors, teaching artists, sound engineers, scenic carpenters, property artists, and fashion designers, to name just a few.
Performers
Directors and producers
Playwrights
Theatrical designers
Arts administrators
Explore more:

CareerOneStop – BLS.gov guide to local wage averages & job growth
After NVC
Students pursuing degrees must work with a counselor and faculty advisor to ensure appropriate elective course selections for their intended area of emphasis. NVC Counseling and the Transfer Center can provide further guidance to facilitate transfer success.