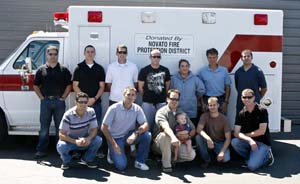 Ambulance donated by the Novato Fire Protection District for use in the Napa Valley College paramedic training program.
President's Circle donors provide unrestricted support to Napa Valley College Foundation. They are a select group of distinguished individuals and businesses whose generosity, qualities of leadership, and understanding of the Foundation and its mission inspire them to provide unrestricted support.
The President's Circle donate between $500 and $25,000 annually in unrestricted funds dedicated to the area of greatest need. To become a President's Circle member, make your donation today by donating online via PayPal or by printing this form (click blue text) and sending it to the NVC Foundation office, 2277 Napa-Vallejo Highway, Napa, CA 94558.
Donations to the President's Circle are used to support the Napa Valley College Foundation's fund development program, enhancing scholarship development, educational services, and facilities at Napa Valley College.
The Legacy Society is made up of individuals who have supported Napa Valley College with planned gifts through life insurance, IRA, or bank account beneficiaries, trusts, charitable gift annuities, real estate donations, and bequests. To join the Legacy Society, please contact the NVC Foundation office.
Ms. Myrna Abramowicz
Ms. Donna R. Altes
Mr. David Aten (in the middle at right)
Judge Wm. L. Blanckenburg
Mr. and Mrs. Richard J. Bremer
Dr. Chris Burditt*
Mr. & Mrs. Alan Cash*
Mr. Fred Caspersen
Mr. Mark Cordeiro
Ms. Maureen Dolan & Mr. Jon Huttinger
Ms. Helen Dunlap*
Ms. Ann Evans
Dr. Bill Feddersen
Ms. Dolores H. Fischer*
Ms. Simone Fontaine
Mr. & Mrs. Gary Garaventa
Mrs. Julie Hall
Bill and Lona Hardy
Mr. John Heflebower
Mrs. Betty Hagedorn
Mr. Carlyle Johnson
Mr. Bruce Ketron
Mrs. Marian Long
Mr. & Mrs. Frank Lucier
Mr. David Mahaffey
Ms. Lorie L. Mazzaroppi
Mr. and Mrs. David W. Meyers*
Ms. Cate Merritt Murphy
Mr. Jeff Omodt
Mr. Michael Oster
Prof. Emeritus Dennis Paterson
Mr. & Mrs. Dennis Pedisich
Mr. Gerard Perez
Mrs. John Quigley
Dr. and Mrs. Hugh Reat*
Mr. Richard Rossi
Dr. Ed Shenk
Mr. & Mrs. Alan Skinner
Mrs. Bette Smith
Mr. and Mrs. Perry Teaff*
Ms. Evie Trevethan
Mr. and Mrs. Ken Tronstad
Ms. Judie Walter-Burke*
Dr. Diane Woodruff*
*Charter members
Ways to become a Legacy Society Member
Change your bank and/or securities account to distribute the remainder to the Foundation upon your death.
Designate the Foundation as the beneficiary of your IRA/401k and/or life insurance policy.
Perpetual Recognition
Various buildings, rooms, and items have been named to honor individuals or groups who have made contributions to Napa Valley College. Please contact the Foundation Office, (707) 256-7170, if you're interested in providing a lasting legacy at Napa Valley College.
McPherson Administration Building (named for Harry McPherson, 1st College President 1942-1954)
McCarthy Library (named for Dr. Chris McCarthy, College President 2002-2009)
Trefethen Family Viticulture Center
Napa Valley Vintners Teaching Winery
Flag Pole: Napa College this campus dedicated to Truth ~ Liberty ~ Toleration, September 18, 1966, I. Thomas Zaragoza - Grand President, Native Sons of the Golden West
Anna Marie Amenda Korobkin Room, now Student Lounge off the Cafeteria
Dorothy Weed Vocal Lab in the Performing Arts Center
Paul Ash Lobby in the Performing Arts Center
Loretta C. Silvagni Recital Hall in the Performing Arts Center
Penny Pawl Practice Room in the Performing Arts Center
Wanda Lamb Practice Room in the Performing Arts Center
Dr. James B. & Suzanne Becker Bronk Practice Room in the Performing Arts Center
Napa Valley Choral Association Practice Room in the Performing Arts Center
William Bruno Santo, Bowie, Texas Practice Room in the Performing Arts Center
In Memory of Vincent W. Santo, Chicago, IL Practice Room in the Performing Arts Center
Glenna B. Santo, Plano, Texas Practice Room in the Performing Arts Center
Tammy K. Mair, Bellevue, WA Practice Room in the Performing Arts Center
Sweet Gramma's Grove Planted for Lura Kirkpatrick in 1982 on her 80th Birthday by Glenda and Alexandre
Bronze Sculpture: Mama Bear Teaching Three Cubs to Fish in grateful recognition of Franco Vianello, Artist, Peter Bedford – Bedford Properties, and other Contributors, Napa Valley College, May 8, 1990
Leaves of the Vine bronze sculpture by Richard Mendelson 2002 at the Viticulture Center & Teaching Winery
Betty Hagadorn Playground, Infant/Toddler Playground in the Child Development Center
James Diemer Drive (College President 1965- 1967)
Roy Patrick Drive (College President 1954- 1965)
Diane Woodruff Way (College President 1992- 2001)
Trees planted in memory Dr. James Diemer (college president), Richard Bieraugel (chemistry instructor). Tree planted to honor Gladys Dallas, retired counselor. Rose garden on south side of library planted in memory of John Dallas.
Daughter's of the American Revolution, many trees on campus
Mary Blanckenburg Flag Pole, Upper Valley Campus
Elisabeth Brereton Room, Upper Valley Campus
Dorothy Mirani Classroom, Upper Valley Campus
Belle Rhodes Teaching Kitchen, Upper Valley Campus
Native American Dedication Garden, Upper Valley Campus
Virginia Murdoff Grover Counseling Room, Upper Valley Campus
Jess and Mary Doud Remote Learning Center, Upper Valley Campus