The Speech Lab will have limited in-person appointments available throughout the Spring '22 semester. Beginning January 25, 2022 the Speech Lab will be open on Tuesdays for in-person appointments from 10:00 am - 2:30pm to all students cleared for in-person services. All other days/times will be held virtually via Zoom. Thank you and have a great semester!
What is the Speech Lab?
A dedicated space for students to record & rehearse speeches and to assist with the production of high quality, multi-media projects.

A space

for faculty and educators to record instructional videos and eLessons;

A multi-media studio dedicated to your success! Get customized, one-on-one coaching from the Instructional Support Specialist, Justin Boulay, M.S., Instructional Design. Receive instant, formative feedback on presentation style, technique, content-flow and more!
Where is the Speech Lab?
The Speech Lab is located in Suite 1769 (Communications Studies Department) on the second floor of the Library, building 1700. Suite 1769 can be found across the hallway from the Teaching and Learning Center (TLC), next to the rear elevator.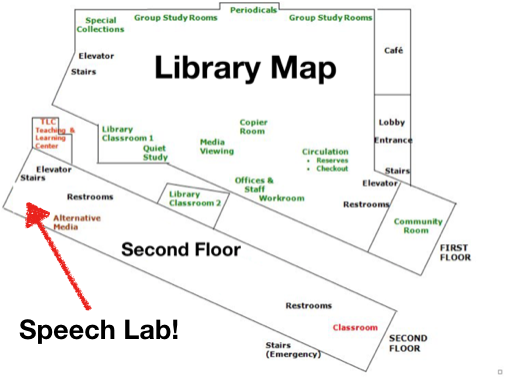 When can I use the Speech Lab?
Fall and Spring Speech Lab hours are as follows: Monday through Thursday between 8:00 AM and 3:30 PM.
Summer Speech Lab hours are as follows: Monday through Thursday, between 7:00 AM and 4:30 PM.
Who can use the Speech Lab?
Anyone! Students and faculty are welcome to use the Speech Lab for any and all educational purposes. *Please note, Speech and Communication students have scheduling priority. The Speech Lab will be blocked out for campus use in the two weeks leading up to Speech and Communication course project due dates.*
What should I bring to the Speech Lab?
If you're a student, please bring your speech typed out and saved to either your phone or printed out. This will guide you while delivering your speech which will help optimize our time in the lab.
If you're a member of faculty or staff, please bring whatever materials you need to facilitate the project you'd like to accomplish. If you email me ahead of time, justin.boulay@napavalley.edu, we can brainstorm all of the necessary accouterments, but this could be a laptop with appropriate software, for instance. If you'll ultimately need to capture footage from your laptop to utilize in your eLessons, please have appropriate screen capturing software pre-installed (VLC or Snagit for PC, Quicktime for Mac). If you're not familiar with any of the previously mentioned applications, I will help you get set up for screen recording.
How do I schedule time in the Speech Lab?
To schedule the lab, hit the big, orange "Book Now" button below and proceed through the instructions given on the AppointmentPlus website. **Additional slots may be booked as long as there are slots available.**