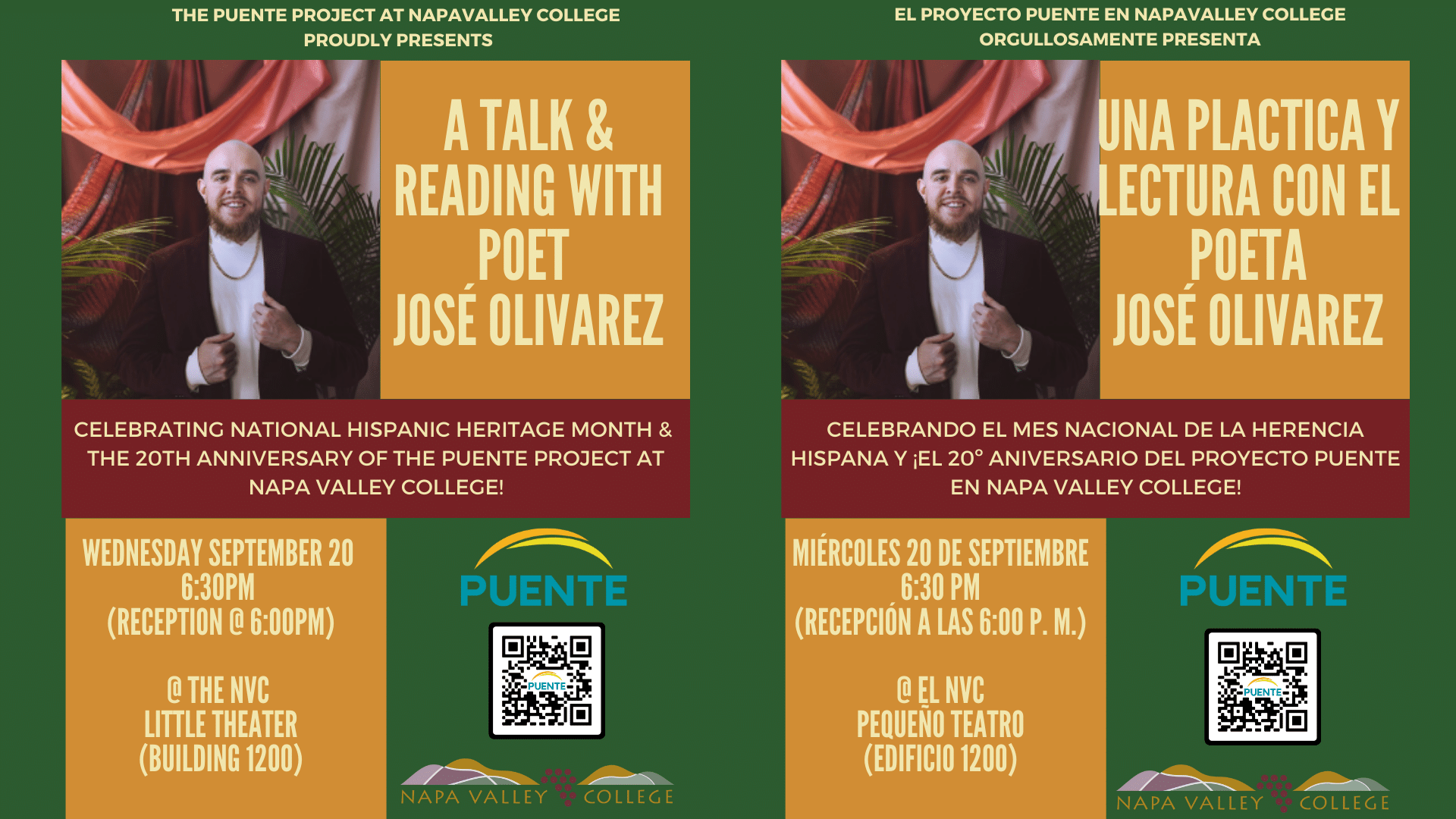 Napa Valley College is proud to offer the Puente Project. The Puente Project is an academic support program and learning community whose mission is to increase the number of educationally underrepresented students who:
enroll in four-year colleges,
earn college degrees, and
return to the community as mentors and leaders for future generations.
The Puente Program is open to all students from any identity and affinity group.
Puente provides three areas of service to students: teaching, counseling, and mentoring. The program serves students in 65+ community colleges, 38+ high schools, and 4 middle schools throughout California, and has expanded to Texas and Washington. Puente's programs have benefited over 40,000 students directly and over 400,000 indirectly. View more general information about the nation Puente Project.
Contact Us
PUENTE Dream Center ROOM 841

Tuesday, Wednesday, Thursday
10:00 AM-5:00 PM

(707) 256-7685
Follow us on Instagram: @nvcpuente
The Puente approach is unique in that the reading is focused on Latinx and Mexican-American literature, essays, and cultural writings in both the fall and spring semester classes.
The program follows this sequence (subject to change):

​Phase: Term(s)
Classes (Units)
Titles/Description
​Phase 1: Fall
​Engl 120 (4) +
Engl 95 (2)
and
Coun 100 (3)
​College Comp. & Research +
Comp Support
and
College Success
​Phase 2: Spring
​Engl 123 (4)
and
Coun 105 (1.5)+
Advanced Comp. & Crit. Thinking about Lit.
and
Transfer Success
​Phase 3: All remaining terms @ NVC
​Any future classes together
Leadership Conference
Writing Conference
​Peer Mentoring
Club membership
Puente Activities
In addition to taking these courses together, students work with community mentors and attend events throughout the year that include university visits, workshops about networking and professional development, cultural activities such as museum tours, and theater and music productions, and more.
Steps to Enroll in the Program:

Follow Steps 1-4 of the 5 Steps to Enroll for Napa Valley College.
After the English placement tool (Step 3), complete the Puente Student Information Form
Expect a call or email contact from a counselor
Save Tuesdays from 9:30am to 12:15pm in your schedule for the Puente sections of classes

Contact a Counselor the following ways:
Online through ConexEd/Cranium Cafe. Counseling Website
*If the counselor is "Online", Knock on the door and start a chat session
By email: nvccounseling@napavalley.edu
By phone: (707) 256-7220
Contact Eric Martinez, Puente Counselor by email emartinez@napavalley.edu to learn more about the mentoring opportunities with Puente students.