NVC graduate becomes second Latina mayor of Woodland, CA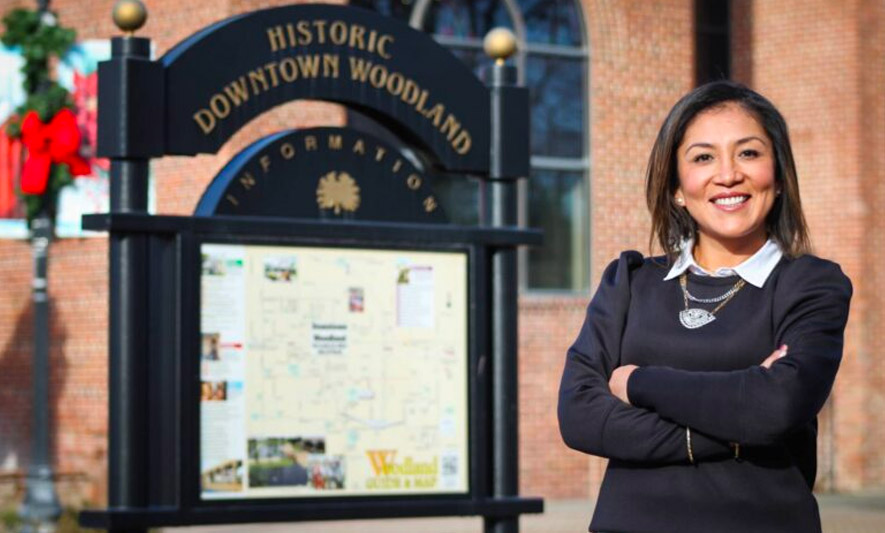 How does a young Latina woman make the journey from young Mexican immigrant to high school graduate, to community college graduate, to college dropout to holder of bachelor's and master's degrees, to parent, working professional and mayor of a California city of 63,000 people?
The answer, according to Mayra Vega: Hard work, giving back and asking for mentorship.
Vega and her family moved to Napa from Mexico when she was 5 years old. Three decades later, she is the second Latina mayor of Woodland, an agricultural city in Yolo County, up CA-113 from I-80.
Along the way, she says, she took advantage of opportunities, worked hard, had stops and starts, and yes, asked for advice through mentors.
"I went to Napa High School, and participated in Upward Bound, a program that was aimed at first-generation college students," she says. "It made me take that first step on to the Napa Valley College campus and helped me to navigate what post high school might look like for me."
She took an NVC Spanish class while still in high school, then enrolled full-time in the fall of 2003, after graduating from Napa High.
"There was an entire support system [at NVC]," she says. "A lot of tutoring, counseling … I was involved with Club Hispano Americano. I felt connected. I graduated with AAs in IGETC [UC required general ed transfer courses], social and behavioral sciences, natural sciences, and math.
"During those three years, I also got married and had my first child," Vega continues. "The onsite childcare program made it possible for me to go to school and have a full-time job, otherwise there is no way I could have done it."
Confident she was on her way, Vega enrolled at UC Davis as an economics major. But it wasn't the experience she expected.
"It was a rough transition from a NVC's semester system to the UC quarter system," she says. "I was working in the wine industry and commuting from Napa to Davis, plus had a young child. I was in shock at how difficult the work was. I had no support, no social network and didn't really feel a connection with Davis at that point. I completed one class and dropped out."
It took a year of reflection before Vega acknowledged to herself that the hard work and sacrifice were what it was going to take to move her dreams forward. She went back to Davis and in December 2009, graduated with her bachelor's degree in economics, while continuing to work in the wine industry.
In 2011, she transitioned into health care, taking a position in Business Development at Adventist Health St. Helena Hospital. She had found her calling – working to improving people's lives passion and decided to pursue her master's degree in business administration.
"But first," she says, "I returned to NVC for an accounting course I needed in order to go to business school."
A "fast and furious" 30 months later, in 2013, Vega graduated from Sonoma State University with an MBA for working professionals. "I worked full time and went to school in the evenings," she says.
Fast forward to 2017 and a new job at Dignity Health in Woodland. She commuted for a few months and, as she says, "fell in love" with the city. Her little family, which by this time included a second child, moved to the city she calls "a strong, working family community." While her husband commuted to Napa Valley to continue to work in the wine industry, Vega says, "I relied on the whole village. I felt so blessed to be in a community where people wanted to help, and newcomers are welcome."
As others helped her, Vega wanted to do the same and became involved in Rotary and local service projects. In 2020, a district seat opened up on the Woodland City Council, and Vega was encouraged to consider running.
"In the beginning, I didn't know what it meant," she says. "I thought it was something only retired, affluent people do. As I got more information, I realized it was possible to keep my job and serve my community. I wanted to support working families, and make sure that the quality of life for all residents is the best it can be." She ran a successful campaign, winning the seat, and became mayor in December 2021.
As an example of how being an elected official can positively affect working families, Vega offers the council's work on expanding youth programs to accommodate working families. Development of a Woodland Research and Technology Park Specific Plan is envisioned as a new technology hub for the City of Woodland, intended to serve an array of research and technology companies interested in locating and growing near UC Davis and other research and technology institutions within the Sacramento region. "
Our community will have jobs for engineers and tech workers, allowing people who grow up here to work and live here."
Vega's journey has been a long one, and she readily acknowledges that "the most valuable thing is to ask for advice, to ask for coaching. In my early days in college, I would ask for help from the teaching assistant," she says. "If you're curious about a career, ask for an introduction to someone who is in that field. Ask for a mentor. At NVC, the counselors, student support services staff, all let me know I can do that. It changed my life."
For students who are just beginning their post-high school education, Vega emphasizes "Don't do your journey alone. Seek out mentors from day one. See how they started and what they did. If doesn't mean you have to do the same thing: It helps you create your own plan, if you talk to enough people."
As a final thought, Vega opines that "Napa Valley College is a place for students of all ages, all walks of life. It's for high school students, professionals, not just for the two years after high school. It's truly a treasure for the community there."