Napa High student began her NVC career at age 13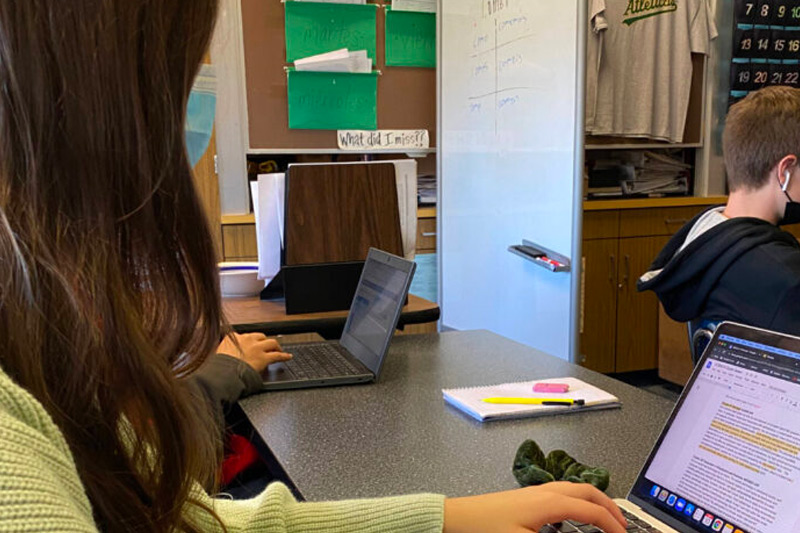 Here at Napa Valley College, we always say there is no such thing as a typical student. Many of our students begin taking classes with us after high school. Some students start their journey with us after retirement, or while they are in their prime working years.
And some begin before they can legally drive.
Liliana Karesh is one of those students. She is 15 now, a freshman at Napa High School in Napa, and is currently enrolled in History 120. But she has already completed 24.5 credits at NVC, having taken her first class at the tender age of 13.
She first enrolled in the fall of 2019, as a 7th grader at Silverado Middle School, to take Piano 3. "I didn't have my private piano teacher anymore, so I took advantage of NVC's piano classes," she says now. Pre-pandemic, that class was the first and last one she took in person, on campus, in the evening. "My mom drove me there and dropped me off, and she would pick me up afterward," Liliana remembers.
"Then in summer 2020 I had some time on my hands and I wanted to experiment with what I could take," Liliana says. "That summer I took a PhotoShop class and a music theory class. In the fall, I took geology, business and another music theory class. Then in spring 2021 I took art and three fitness classes."
Liliana attends classes at NVC as part of the Dual Enrollment program, which allows middle or high school students to take courses for which they earn both K-12 and college credit. Not all of Liliana's credits earn dual credit, but many do. To initially become enrolled, Liliana worked with her high school counselor and with NVC dean of enrollment and outreach services Jessica Erickson.
"She directed me how to get signed up, and what classes to take," Liliana explains. "I also met with a transfer credits counselor and she helped me discover a program to transfer all my credits to a UC."
Her selections so far are all General Education classes. The fitness classes were a strategic choice, Liliana says, as they count toward her college credits but also count toward her high school PE requirements, allowing her to take elective courses that she otherwise would not have had space in her schedule to take.
"I knew I could do so much more once I was registered; it just takes a little research and effort," she says. "I knew that I could get ahead of people in my high school class and expand my knowledge on a lot of different subjects and challenge myself."
How does she make it work? The online classes were easier without having to commute to campus, she says. "I finish my school homework and then finish my college homework. The most challenging so far has been the business class, because there was more of a workload, and lengthy classes, and I had to take good notes."
Despite the difficulties, Liliana is carrying a 4.0 GPA, and plans to continue to take classes to fulfill her General Education requirements.
"It would be really awesome to get my General Eds done at NVC and then transfer to a four-year school to study STEM [Science Technology Engineering Math] and computer science. I really would love to go to a UC. Berkeley, UCLA and Davis are my top three," she says.
She is unusual among her group of friends, she says. "My friends are a bit surprised, and curious about why and how I do it," she says. "I tell them I like to challenge myself." Some of her friends are considering following her example and taking fitness classes at NVC, she says.
During the interview, Liliana's mother, Victoria Shevchenko, is in the room and monitoring the conversation. The family, including Liliana's father Simon Karesh, moved to the United States from Russia in 2014, and Victoria is not confident about her English. So Liliana translates, offering her mother's perspective on the dual enrollment program.
"She thinks it's a great idea and a wonderful opportunity," Liliana says. "In Russia, there is a different education system, and it would be impossible for a middle-school student to take college classes. She knows I have the ability to get good grades in high school while taking college classes, so why not take advantage of it?"
As a last thought, Liliana shares her mother's wish that more high school and middle school students knew about the dual enrollment option. "It would shorten their college time. They could challenge themselves and get the full benefit of it," she said.