NVC Grad Inspires New NVC Students at Convocation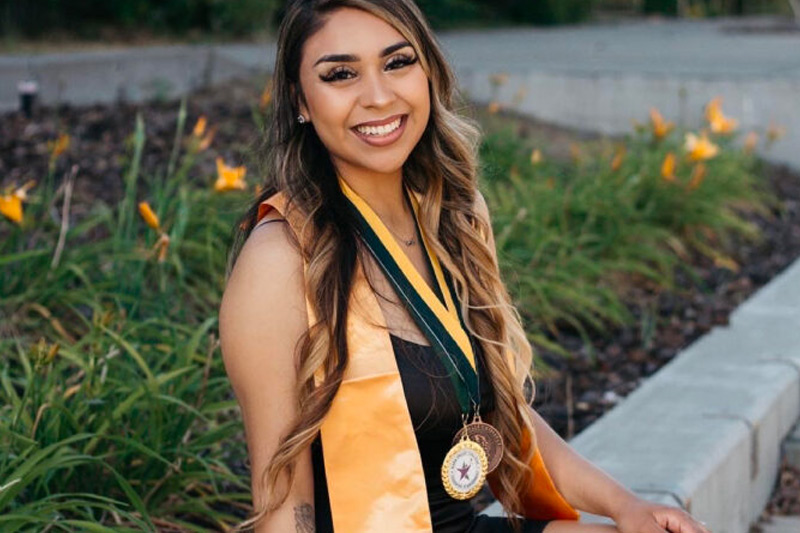 For as long as she could remember, Monique Rivera had always worked hard to be a great student, including during her time at Napa Valley College (NVC). But her trajectory toward excellence was not a given: as a young woman from a family rife with conflict, she found herself in her teenage years working hard without the recognition she desperately wanted.
"I had always been a good student and I continued to do so in high school, but then something changed. There had been so much struggle within my family during that time, which led my accomplishments to feel unnoticed," Rivera shared at NVC's new student convocation on August 10. "I felt extremely lost, and I just wanted someone to be proud of me."
During her sophomore year, she "hit (her) breaking point," she said, and ran away from home. She started hanging out with the wrong crowd — and she found herself, the girl who had always been a good and hard-working student, suddenly in trouble with the law.
This moment was the turning point for Rivera, who called it a "blessing in disguise." The law enforcement officer gave her that attention she had been looking for. He encouraged her to look inside herself for that love and validation that she had been craving.
"I share this story with you all," Rivera said in her remarks, "Because I felt like I had hit rock bottom at that point in my life. I felt like there was nowhere to turn and I had no purpose. This was not the case at all. I just had to believe in myself and do it for me, though. I was able to find the support and fortitude in me to finish high school successfully."
After high school, she enrolled at Napa Valley College, where she found continued support from her peers, the staff and her instructors, who inspired her to continue doing her best. During her convocation speech, she encouraged the 400 new students in attendance to reach out, ask for help and seek out like-minded students who could help motivate and inspire them to work hard in their classes.
Rivera graduated from NVC in spring 2021 with a 3.86 grade point average and two associate degrees, on in Administration of Justice and one in Human Services. She called on the newest NVC students to work hard and to let go of past mistakes and pain.
"Continue to learn, grow and succeed. If you want to change your future, you have to change your mindset. The change starts within you," she said during her speech. "I wish you all the best throughout your academic journey at NVC and beyond. And I hope you will achieve everything you set out to do. Never stop chasing your dreams."
Rivera served as the keynote speaker for the convocation, returning to share her story and serve as an inspiration for those just starting their college journey. She was joined by NVC administrators, counselors, faculty, staff and students who shared information and resources to help the new students navigate their way.
Every student who participated in the 2nd annual new student convocation also received a backpack filled with supplies, a $100 bookstore voucher and the chance to win a laptop and Visa gift card, thanks to the generous support of the Napa Valley college Foundation and the Napa Valley College Book Store.
The need to create something more extensive than a traditional orientation to help students navigate their first year of college became evident during a student equity focus group in spring 2020. "We decided to create a new student convocation modeled on what 4-year colleges and universities traditionally offer," said Robin Darcangelo senior dean, student affairs. "We created this annual event to officially welcome students to their academic year and make sure they know the various support options available to them."
"Everything we do at Napa Valley College is focused on student success, and this event is intended to help get our new students off on the right foot," said Oscar De Haro, assistant superintendent/vice president, student affairs. "I am so thankful to our staff and partners for creating such a successful convocation – and to Monique, for sharing her story. Her message about working hard and changing our mindset is advice we can all use."
Thank You to Everyone Who Participated in the 2nd Annual New Student Convocation
Thank you to the 400+ new students and 32 staff, faculty and administrators who participated — an exceptional showing and an extremely successful event!

Christa Trujillo emceed the event, which included sessions to help new students access information and services.
A special thank you to our donors:
NVC Foundation for providing 4 laptops and $5,000.00 in Visa gift card
NVC Bookstore for providing folders, water bottles, baseball caps, pamphlets, binders & Pens
Caminos Al Éxito and Outreach budget for providing backpacks, supplies, and NVC swag
Equity budget for providing $100.00 book store vouchers for students who participated
A special thank you to Chris Farmer for recreating the Convocation website, originally created by Star Bastet last year, to update content this year. Also, a special thank you to the Tech team that worked behind the scenes making the breakout rooms work magic:
Maria Ramos Tamayo, Mayra Estrada, Chris Farmer, Martha Navarro, Blanca Gonzalez, Alfredo Hernandez, Amanda Frost, Mark Martin and Michelle Hinchcliff.

A big thank you to all the participants that made such an awesome event:
Dr. Kraft, Oscar De Haro, Sara Parker, Charo Albarran, Christa Trujillo, Monique Gutierrez, Omar Peña, Flor Martin-Del Campo, Jhanine Mizona, Tyler Downie, Nancy Tamarisk, Magdalena Orr, Kyler Thompson, Kelly McCann, Mai Vo, Ali Shull, Marci Sanchez, Martin Olguin, Sherry Tennyson, Brenda Rodriguez, Luis Alcazar, Brian Lym and Robin Darcangelo.