Travel to Europe with Napa Valley College Summer 2023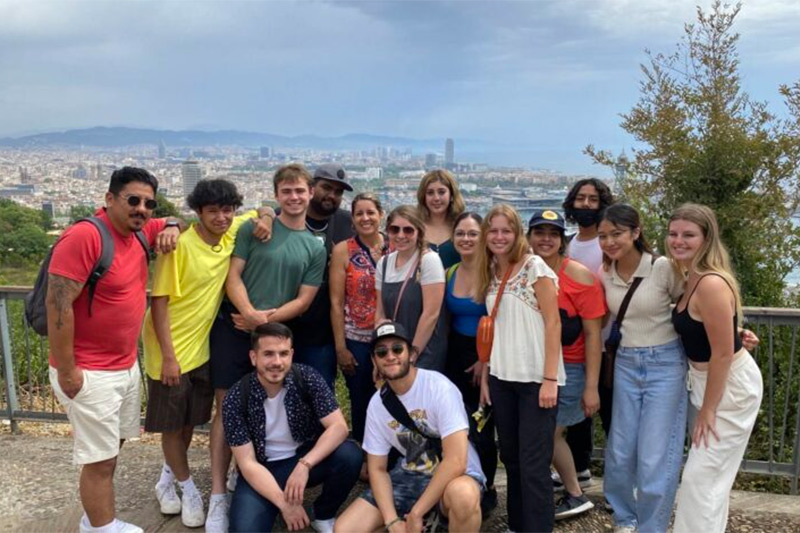 Napa Valley College's International Education program will offer three study abroad trips in summer 2023: Spanish Language in Salamanca, International Business in Paris, and Statistics in Greece. Students and community members interested in participating in the study abroad program are invited to a free information session on Thursday, November 17 at 6 p.m.
Join Professor Nicole Carrier June 22 to July 15 for a Spanish Immersion Program in the medieval town of Salamanca, Spain. The program begins in Madrid, where students will spend a day touring the city and visit the world-famous Prado Museum and Royal Palace. After two nights, participants will travel via private motorcoach to Salamanca, where they will meet their host family and tour the old town. Spanish classes will be held every morning from 9 a.m. to 1 p.m., leaving plenty of time every day to explore and enjoy the food, music and culture of the heart of Spain. This program also includes an excursion to the beautiful towns of Segovia, La Granja and Avila.
Professor Nicole Carrier has been teaching Spanish since 2002 and holds a BA in Spanish and an MA in Hispanic Linguistics. She has visited 30 countries and lived and studied in seven — the Dominican Republic, Mexico, Honduras, Spain, Russia, Italy and France — and has taken college students abroad to both Mexico and Russia.
Join Professor Claudette Shatto to study Business in Paris, July 7 to July 21. The historic city of Paris will be the classroom as students explore how business is conducted in this stunning European region. Discover the ways that tradition and innovation combine to shape the changing business landscape, from historic walking tours of Paris to a Seine River tour and visits to local businesses. Included in the trip are Paris' most beautiful sites including the Louvre, Marché Bastille, and of course the Eiffel Tower. Students will also celebrate Bastille Day with the Parisians!
Professor Shatto was recently named 2022 Educator of the Year by the "Napa Valley Register." She has been teaching business and entrepreneurship at Napa Valley College since 2014 and took 14 students to study international business in Barcelona this past summer.
Join ​mathematics professor Ana Clare Elizarrarás on this inaugural statistics program to Greece, July 23 to August 4. Students will explore data and analyze information as it relates to the real world with Greece as the background. The journey begins with an exploration of Athens including the Parthenon, the Acropolis, the National Archaeological Museum and the Plato Academy. Students will then hop on a ship and spend four days cruising around the Greek Islands visiting Santorini, Mykonos, Crete, Kusadasi and even Samos the home of Pythagoras.
Elizarrarás has been teaching math since 2005 and holds a BS in Mathematics with a minor in Chemistry, a MEd in Secondary Education, and is two classes away from a MS in Mathematics. She first took students abroad to Costa Rica in 2015 and also has taken groups to Italy, France, Greece and the United Kingdom.
The Study Abroad virtual info session will take place on Thursday, November 17, from 6 to 7 p.m. on Zoom. For additional information, contact Nicole Carrier at Nicole.carrier@napavalley.edu, Claudette Shatto at cshatto@napavalley.edu, or Ana Clare Elizarraras anaclare.elizarraras@napavalley.edu. For detailed itineraries and more information, visit Study Abroad.
About Napa Valley College International Education
The purpose of the International Education course offerings is to encourage the development of intercultural and international understanding. The course offerings provide travel study classes throughout the world. Our course offerings encourage students to participate in summer sessions to appreciate global issues through the lens of another culture or language and to develop a deeper understanding of the world around them, their country, and themselves.