Cutting-Edge production of "Romeo and Juliet" to be staged at Napa Valley College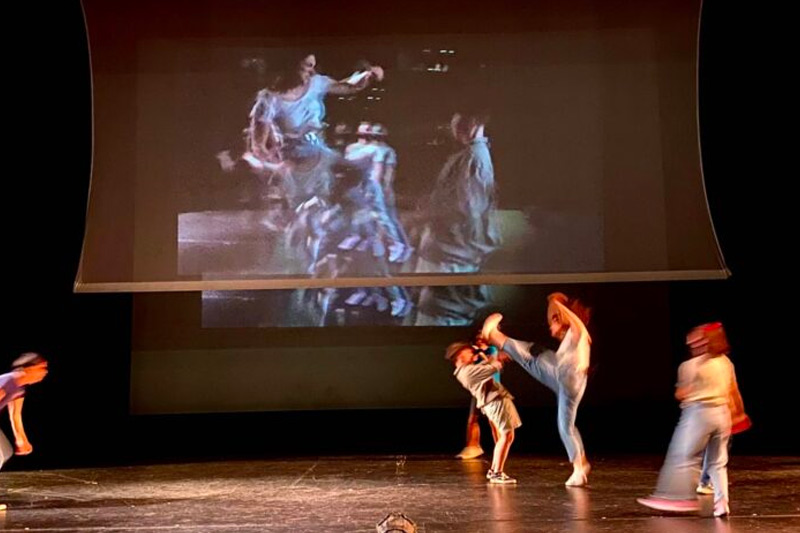 Napa Valley College Performing Arts presents an innovative take on "Romeo and Juliet" on the mainstage of the NVC Performing Arts Center over one weekend only, Friday-Saturday, April 29-30 and Sunday, May 1.
"Romeo and Juliet," is co-directed by Jennifer King and Olivia Cowell. "I am directing my first full in-person production since the start of the pandemic and it is wonderful to be with our students again," said King.
"The creative team is ambitious, combining live performance with digital technology, including elements from our 2020 livestream performance of 'Romeo and Juliet," King added. "Our approach to the production mirrors what many of us are experiencing daily as we move from our computers and smart phones to in-person gatherings."
Recalling moments from the virtual production King staged in 2020, co-director Cowell explains how this production differs from previous stagings. "Our in-person performances include imaginative set elements and the use of mixed media such as projections and live cameras manipulated onstage by actors. These elements amplify the characters' plight of re-examining choices."
The production design team includes Kevin Kemp of The Streaming Theater supplying digital design; Matt Cowell, NVC technical director, who composed an original score and sound design; with lighting design by Keira Sullivan and costume design by Freya Marcelius.
"Romeo and Juliet" will feature a cast of NVC students. Pilar Gonzalez, who was Romeo in the digital production, reprises her role in this production. Jessica Romeo, an alumna guest artist, also returns as the nurse. Additional cast members include Ariana Nijem, Kara Poon, Xathanael Todd, Karolina Weiss, Erin Smith, Tessa Mello, Vienna Spezza Sylvia Vargas, Jayson Adkins, Emily Fernandez, Ginna Beharry, Anthony Munoz, Milan Alas and alumnus guest artist Kevin Rebultan.
Performances are on Friday and Saturday, April 29, 30 at 7 p.m. and Sunday, May 1 at 2 p.m. Tickets are pay-what-you-can.
Trigger warning: The production content includes suicide, stage-violence and mental illness. Special effects include digital imagery, strobe lighting, and the use of fog hazers. We recommend this production for audience members aged 13 and older.
All performances will be held on the mainstage of Napa Valley College Performing Arts Center. For more information and to purchase tickets, https://performingartsnapavalley.org/