Napa Valley College Awarded $31 Million Grant from State Higher Education Student Housing Grant Program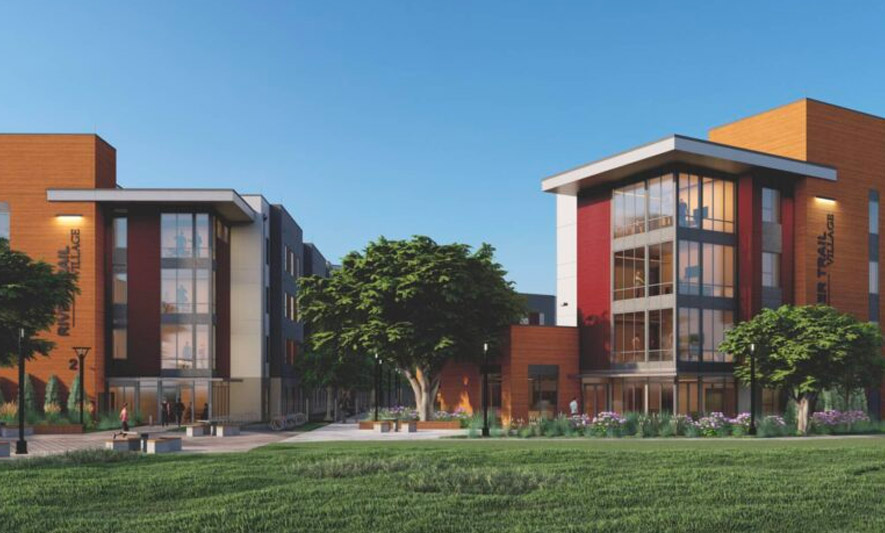 Napa Valley College will break ground on its student housing project this summer after receiving the good news that it was awarded a $31 million grant from the State's Higher Education Student Housing Grant Program. The student housing project is planned to open for student occupancy in 2024.
This announcement follows on the heels of the Board of Trustees' approval of a ground lease and coordination agreement by the college with National Campus and Community Development (NCCD)-Napa Valley Properties, LLC., a nonprofit organization established to provide tax-exempt financing specifically for this project. The state housing grant will support the public-private partnership Napa Valley College has already created for the construction, operation and maintenance of its student housing project, which will be called the River Trail Village at Napa Valley College.
The student housing project will provide a variety of unit types, including traditional dormitory rooms, as well as furnished and unfurnished studios and apartments with a total of 588 beds. All units will be below market rate and the state grant will support NVC's goal to make affordable housing available to the greatest number of low-income students, who make up around 40 percent of NVC's student population.
The college conducted various feasibility studies that indicated that the highest priority for students was cost. The studies also found that if students could afford to live closer to campus, many students (nearly half of whom attend part-time) would increase to full-time study to speed completion of their educational goals.
As part of the 2021‑22 budget package, the State of California created the Higher Education Student Housing Grant Program to promote the construction of affordable on‑campus housing at the state's public higher education institutions. A total of $2 billion over three years was initially allocated; however, with the recent State budget surplus, the legislature proposed nearly doubling what the Budget Act of 2021 specified for 2022-2023 spending under the Higher Education Student Housing Grant Program. That increase included the $31 million investment for Napa Valley College's student housing project.
"We are fortunate to have a state legislature and a governor that recognize the need for affordable housing for college students, especially community college students who have been significantly impacted in the current housing crisis," said Dr. Torence Powell, superintendent/president at Napa Valley College. "The true cost of attending college is more than tuition – add housing, food, transportation and textbooks to the mix – and students who cannot meet their basic needs such as shelter are most directly affected."
"The Legislature and governor made it clear that affordable housing is a priority," said Sen. Bill Dodd, D-Napa. "Napa Valley College is already ahead of the game and will now be able to deliver the first student housing projects in the state to serve a diverse student body and their families."
"The Napa community and its students are big winners in this year's state budget," said Jeff Dodd, president, Napa Valley College Board of Trustees. "The Board of Trustees made a commitment that the project should only move forward if we could provide affordable rents. With this $31 million grant, the Board has doubled down on its commitment to students, and a portion of units will be available to qualified students for less than $600 when the buildings open. This will support our efforts to address student affordability and the needs of our housing insecure student population for years to come."
"Part of providing a comprehensive academic program is ensuring students have their basic needs covered so they can pursue their education without worrying about their next meal or where they will sleep each night," added Powell. "Research consistently shows the negative impact housing and food insecurity has on student success. Students are more likely to be successful and complete college when they live on campus, particularly when the on-campus experience builds learning relationships and encourages student engagement through the many student support programs Napa Valley offers. Plus, our housing project will support college enrollment, recruitment and retention goals."