NVC Women's Basketball Receives Four Additional Player Commitments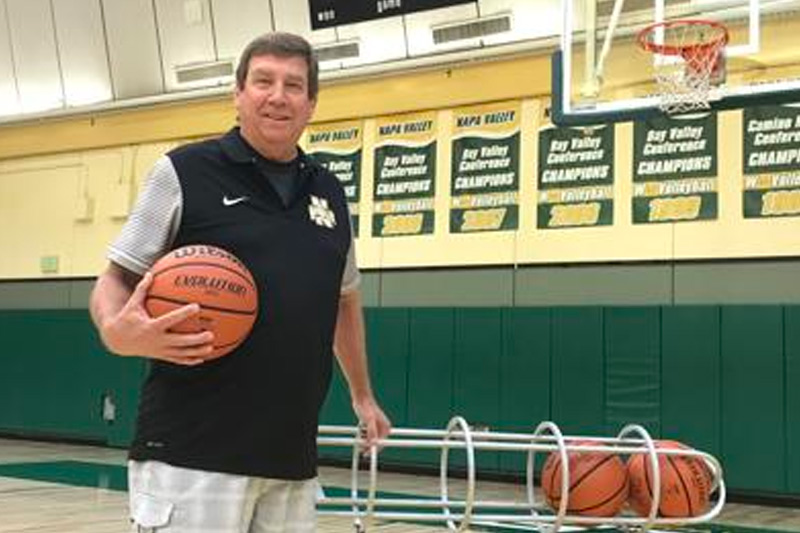 Napa Valley College head women's basketball coach Paul DeBolt announced that Hannah Newman and Cali Olmstead of Napa High School and Deyari Babb and Indya Luckett of Vallejo High have committed to play for the Storm.
The latest commitments give NVC 10 players on its roster going into the 2020-21 school year.
"We have a strong roster right now – it's full of local kids," DeBolt said in a telephone interview. "We've got every position. We're hoping to add another two or three kids, if we can. We're still in contact with some players – they're trying to decide what they are going to do.
"I think it's going to be a fun year."
The implementation of its Contingency Plan, as approved and announced on July 9 by the California Community College Athletic Association's Board of Directors, will have the women's basketball season during the 2021 spring semester, because of the COVID-19 pandemic.
All sports will have a 30 percent reduction in the maximum number of contests or competition dates that they are currently permitted, according to a press release from the CCCAA, which oversees and governs athletics for 110 member institutions.
NVC women's basketball will have an early spring start to its season, with practice beginning on Jan. 18, followed by a Feb. 5 competition start date. It's a 20-game schedule, with two scrimmages, and the conference competition end date is April 6. There will be regional playoffs, but no state championships, according to the CCCAA, which provides oversight of within the California Community College System as well, according to the organization's website.
The NVC team has been allowed to meet, face to face, and had some workouts over the summer.
"I think we're starting to build something that's going to be special," said DeBolt, who is assisted by Zack Cook, Teri Williams and Jalen Dupree. "Our vision for what we want to do is starting to take hold. I think people are beginning to see that we're serious about what we're doing. We're going to have a competitive program.
"We do want to be a hub for women's basketball, for local women's basketball activity. We want to create something that will last – and a place where kids can come in and feel comfortable playing, and then move them on, move them to the next level or get them to wherever they want to transfer to, with the focus on academics."
Newman is a 5-foot-10 player who can play power forward and post positions. She played in 24 games this past season for Napa, averaging 4.5 points, 3.9 rebounds and 1.5 blocks per game.
"She gives us some size that we really need, just a good all-around player who's got a lot of potential," said DeBolt, who was the head coach for 30 years at Contra Costa-San Pablo (1986-2016). "She runs the court well, she can get up and down the court. She's a good post player, a good defender, inside the paint. She can play high post, low post. The more she plays, once she gets in our system, I think she'll do really well.
"She has nice mid-range shooting. She can play the high post and shoot. She's got post moves. She can post up. What I really like about her is she's got a lot of potential and she moves very well on the basketball court. She has a sense of where to be defensively. She's a good all-around basketball player."
Olmstead is a 5-6 guard-forward who is a solid defender and will help the Storm at both ends of the floor, said DeBolt.
"She gives us some good depth," said DeBolt, who is sixth for wins all-time in California community college women's basketball history. "I know her game is going to get better. I know she's going to work at it. She's looking forward to being a part of our program. She's physical. Her offensive game is still developing."
Olmstead played in 22 games this past season and averaged 2.0 points and 1.7 rebounds per game.
"Having her is really great, because she does some things that no one else does," said DeBolt.
Babb is a 5-11 center-post player who averaged 3.6 points, 3.6 rebounds and 2.1 blocks per game this past season for Vallejo. She is a strong defender and rebounder, said DeBolt.
"She boards hard. She gets after it, gets up and down the court," said DeBolt, who was honored as the California Community College Women's Basketball Coaches Association State Coach of the Year during the 2000-2001 season. "She enjoys blocking shots. She can run the floor really well. She gives us a bigger presence inside. If somebody is attacking the basket, she can change what the offensive player does, by what she does defensively. She gives us a nice, strong presence in the paint, both offensively and defensively. She's a nice post player.
"I think her offensive game can develop more. She played on a team last year at Vallejo where they struggled to get her the ball. They had trouble getting the ball to her down low.
"I think with us, we've got such strong guards … she'll have a lot of opportunities in the paint to score and to develop her offensive game."
Luckett is a redshirt freshman point guard who was in the program last year.
"She's a strong kid, goes hard to the basket, and plays with a lot of confidence," said DeBolt. "She's a solid defender, just really gets up in your face defender."
Babb was named second-team All-Tri-County Athletic League Stone Division.
Luckett was selected honorable mention.
DeBolt said Malejah Cronin, a shooting guard from Benicia, and Maira Montañez, a guard from Calistoga, are returners from the 2019-20 team who will play as sophomores for NVC.
Montañez is a "nice all-around basketball player" and "plays with a lot of enthusiasm," said DeBolt.
Cronin is an off guard-forward.
Marty James is a freelance writer who makes his home in Napa. He retired on June 4, 2019 after spending 40 years as a sports writer, sports editor and executive sports editor for the Napa Valley Register, a daily newspaper in Napa County. He is a 1979 graduate of Sacramento State and a member of the California Golf Writers & Broadcasters Association and California Prep Sports Media Association. He was inducted into the CIF Sac-Joaquin Section Hall of Fame in 2016 and the Vintage High School Athletic Hall of Fame in September of 2019. martyjames.sports@gmail.com