Undocumented Student Action Week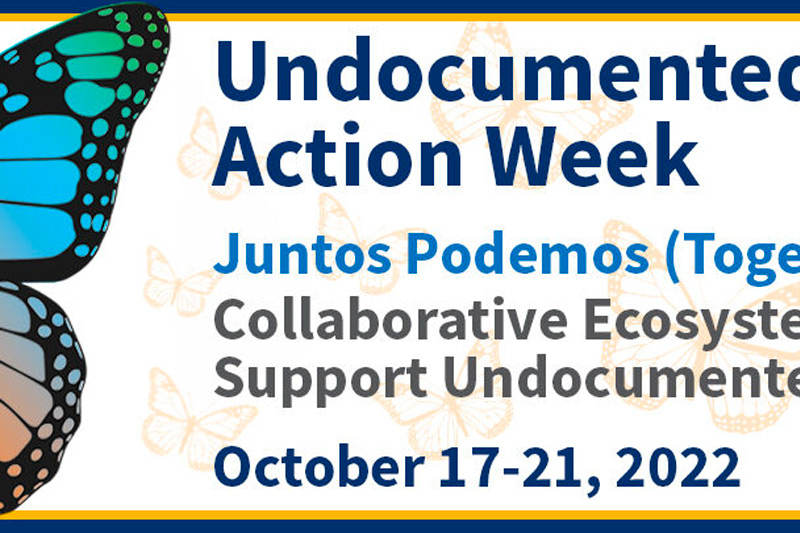 Dear Napa Valley College Community,
Today marks the beginning of Undocumented Student Action Week. In light of the US Fifth Circuit Court of Appeals ruling that the Deferred Action for Childhood Arrivals (DACA) program is illegal, it is important that you understand what this means for our undocumented community here in Napa county.
The leadership of Napa Valley College unequivocally disagrees with the ruling and is committed to strengthening our support for our undocumented community. We know and are deeply distressed that this ruling causes additional pain to a community that is already living with the trauma of pervasive anti-immigrant rhetoric, hostility directed at them due to their race, ethnicity, and citizenship status, and a prolonged state of liminality and uncertainty about their status in this nation. Please be assured that despite this ruling, undocumented students are still able to enroll and stay enrolled in courses at NVC, to receive educational supports to be successful in the attainment of their professional goals, and are cherished members of our NVC community.
At the Board of Trustees meeting last night, the Board voted unanimously to recognize Undocumented Student Action Week and to encourage NVC community participation in programming to support the undocumented community. Attached, for your information, is the full text of the resolution.
Students at NVC are part of a larger educational system that is absolutely committed to their success. The California Community College system is headed by a Chancellor who is a fierce defender of undocumented students and other marginalized communities. In a joint statement issued by the California Community Colleges, the University of California, and the California State University executive leaders, Interim Chancellor Dr. Daisy Gonzalez affirmed the commitment of our California Community College system to those impacted by this ruling. The Chancellor's Office is also hosting daily webinars during Undocumented Student Action Week.
The Chancellor's Office also provided campuses with resource materials, which are attached:
"Navigating The California Community Colleges as an Undocumented Student" is written for students and outlines steps they can take to enroll in college and links them to helpful resources.
"Collaboration is Allyship: How Campus Leaders can Support Undocumented Student Success" provides guidance on how administrators, faculty and staff can develop practices that foster campus collaboration around the support for Dreamers.
The Federal Coalition leave-behind outlines the current CCC policy requests made to Congress. If you are interested in submitting a letter or meeting with your member in the coming weeks, the CCC Government Relations team can provide you with some resources. With the continued unpredictability of DACA, we must call on Congress for something permanent.
Last Tuesday, 10/11/22, our UndocuLiaison, Associate Dean Luis Alcázar, sent an email message to the community listing the programming at NVC for Undocumented Student Action Week. Below are registration links for the events:
Monday, October 17, 12:30-1:30pm
Where: Zoom (link provided after emailing Ricardo Elorza)
Speaker: Ricardo Elorza, Attorney at Vital Immigrant Defense Advocacy and Services (VIDAS)
To Register: email Ricardo Elorza at relorza@vidaslegal.org
NOTE: Brief DACA update provided during webinar
Tuesday, October 18, 12:30-1:30pm
Where: Room 838
Speaker: Cinthya Cisneros, Owner of La Cheve and Napa Valley College Alumna
To Register: fill out this form – https://forms.gle/ogWVQuxi9WGNK36d6
Thursday, October 20, 12:30-1:30pm
Where: Room 838
Speaker: Marco Torres, Field Engineer at PG&E and Napa Valley College Alumnus
To Register: fill out this form – https://forms.gle/np9s33mygjWCsmLj8
Following are resources to help those impacted:
Please join us in supporting our undocumented community.
In solidarity,
Dr. Torence Powell, Superintendent/President
Dr. Patricia van Leeuwaarde Moonsammy, Senior Director, Diversity, Equity, and Inclusion
Luis Alcázar, Associate Dean, MESA and STEM Programs, and NVC UndocuLiaision