Response to war / Israel-Gaza conflict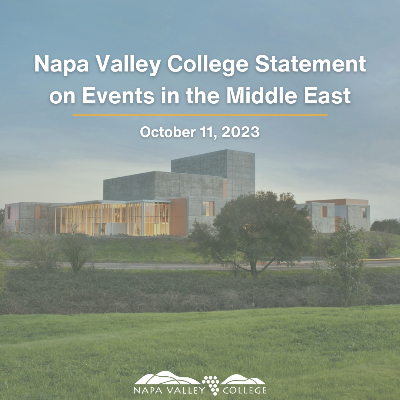 Dear NVC Community:
I would like to express our college's deepest concerns and support for our students, staff, and families impacted by the horrific events in Israel and Gaza that began last weekend. Hundreds of innocent civilians have tragically lost their lives or been severely injured, causing immeasurable pain and suffering to their families and communities.

We condemn all acts of violence and stand in solidarity with those affected by these tragic events. Our thoughts and prayers go out to the victims and their loved ones, as well as to those who are working tirelessly to bring about peace and stability in the region.

In times of crisis, it is crucial for us to come together as a community and support one another. We encourage fostering an environment where individuals can express their thoughts and concerns in a respectful and compassionate manner. We are here to provide support and guidance, whether it be through counseling services, educational resources, or any other form of assistance that may be required.

We encourage you to support one another and to utilize the many supportive resources available to you in times of need. Napa Valley College offers counseling, opportunities for open and candid dialogue and mental health support to our students, faculty, and staff as they navigate the news of these events.
For students: NVC offers convenient, confidential care on campus through Mentis Health. They provide a range of free wellness and psychological services including short-term, confidential counseling. For 24/7 emotional support, students can call Napa County's Mental Health Crisis Hotline: (707) 253-4711.
For employees: The Employee Assistance Program, provided by Optum provides free, short-term face-to-face counseling to NVC colleagues who may be facing issues including emotional distress, grief, and more: The Employee Assistance Program (EAP) can be accessed online at Liveandworkwell.com access code NVC. You can also call 1-866-248-4096.
I urge us to come together with kindness and empathy to support those in the NVC community. As an institution, we actively work to cultivate a supportive and inclusive campus in which all community members feel a sense of safety and belonging.

We do not tolerate hate, bias, or violence, and we commit to work together to move toward a more equitable and just society.

Solemnly,
Torence Powell, Ed.D.
Superintendent/President