Community leader Blanca Huijon gained guidance and confidence at Napa Valley College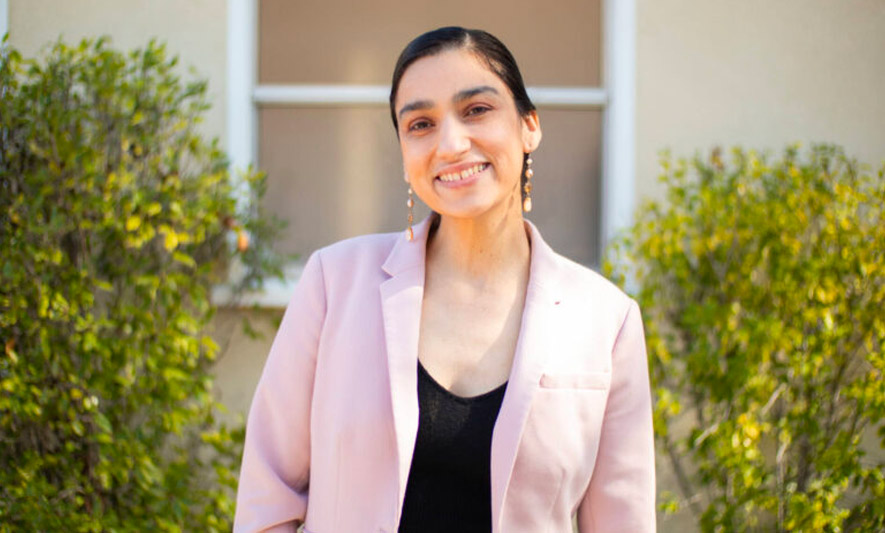 Upon meeting Blanca Huijon, executive director of Napa's Puertas Abiertas (Open Doors), one is struck by her poise and confidence, honed over the course of 11 years at the nonprofit, which provides health, social service and education resources to Spanish-speaking community members. Her bio on the organization's website calls her an "independent woman, daughter, sister, visionary, community organizer and experienced advocate for the Latino community."
It wasn't always that way.
Born in Guanajuato, Mexico, Blanca's parents brought her to the United States when she was 15 years old and enrolled her at Napa High School as a sophomore. Her farmworker father and factory worker mother encouraged her to focus on school and her studies, even as she worked to learn English and make a life in Napa.
"Seeing how hard my parents worked grounded me. They were my main inspiration to continue studying," Blanca says now, "even though I doubted whether I would graduate from high school or go to college."
The encouragement and support of a dedicated team of Napa High School teachers and tutors, however, helped Blanca move past her insecurities and doubts, graduate, and enroll at Napa Valley College.
"I felt lost during my first year of college," Blanca says. "I felt isolated and did not feel I was making progress in my education; the only class I was taking was English as a Second Language.
"During my second year of college, I decided to challenge myself and scheduled an appointment with a different counselor, Laura Ecklin. She believed in me and gave me the confidence and opportunity to take regular courses."
Blanca tells of how Ecklin helped to calm her fears by taking her to meet her new health class professor in the classroom, explaining to the instructor that Blanca was making a transition from ESL to regular classes. Blanca continued to successfully complete general education classes at NVC through that year and the next.
"During my third year of college, I met with my counselor to review my education plan, and she informed me that I had completed all of my general education requirements and now should consider some university applications," Blanca remembers. "One of them was Sonoma State University, where I wanted to attend."
Blanca took the application home, completed it returned it to Ecklin, who continued to support Blanca through the remainder of the application process.
"She provided me with the right tools, showed me the path to the right resources I needed, and gave me the moral support I needed to succeed and believe in myself," Blanca says with a smile.
When Blanca graduated Napa Valley College in 2005, she left with associates degrees in Social & Behavioral Science, General Education, Fine Arts and Math. She transferred to SSU, where she earned a bachelor's degree in Chicano Latino Studies and a minor in Psychology. Shortly thereafter, in 2010, she joined Puertas Abiertes as a Senior Case Mentor. While working full time, she returned to SSU in 2013 to earn a grant-writing certificate, which she uses to support the ongoing fundraising needs of the popular nonprofit.
"My education was the base to dream big and knock down walls of fears and false beliefs. As a child, I never imagined I would become a leader in my community who serves and advocates for others," Blanca says. "As executive director of Puertas Abiertas, I have learned about myself. I have faced challenges, but I have defeated them with the guidance and el cariño (love) of my family, friends, mentors and other community leaders who believe in my growth and potential. I always say, 'Helping others is not about competition, it is to show them the path to thrive.'"